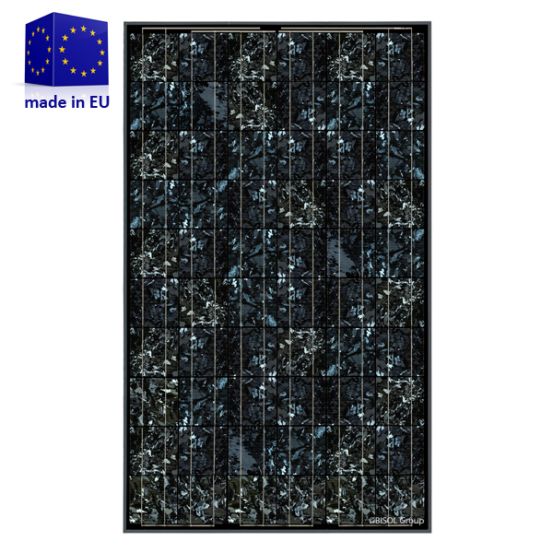 BISOL Spectrum BMU 255Wp Marble Grey solar module
Product code : 15208-SN
5947
European quality solar panel with coloured cells

You can contact us for more information via the button "add to Wishlist'
BISOL Product Warranty 20 years
BISOL Spectrum BMU 255Wp Marble Grey solar module
Product description

BISOL Spectrum BMU 255Wp Marble Grey
Colour inconsistencies of solar cells in a module may appear due to the nature of this product.
With respect for our natural surrounding and the architectural legacy in mind, we are introducing an exclusive BISOL Spectrum series of photovoltaic modules with coloured cells, whereby you no longer have to compromise aesthetics for efficiency when arnessing the endless power of the sun.
BISOL spectrum modules were designed not only to conform, but also torefine the architectural traits of buildings and roofs of various types and styles. Available in a wide palette of colours, BISOL Spectrum series PV modules can now really become an integral part of the building by either seamlessly blending into the historic character of the building in its natural setting, or by contributing in the manifestation of the building's modern design features. Their unique look allows discreet blending with the scenery, hence preserving the timeless beauty of diverse natural settings. Either way, BISOL Spectrum modules will undoubtedly add a timeless aesthetical value.
✔ Designed and manufactured in EU
✔ A perfect colour match to your roof
✔ On-roof or BIPV
✔ Double insulation
✔ Excellent low light performance
✔ Supremely low degradation
✔ Module presorting for higher profitability
✔ PID free
✔ All relevant certificates
BISOL Spectrum BMU 255Wp Marble Grey solar module
Product specifications
Number of pieces in 1 package
Spectrum (Poly)kristallijn
Glass with anti-reflective coating
Associated warranty extension
BISOL Spectrum BMU 255Wp Marble Grey solar module
Product documents
Notify