HYUNDAI Shingled 400Wp Black-Ribbon Mono FullBlack solar module
Product code : 13006-SN
10576
The monocrystalline cells are shingled. The surface is used more efficiently so that more sunlight can be reached. Tier 1 Module Manufacturer

You can contact us for more information via the button "add to Wishlist'
HYUNDAI Shingled 400Wp Black-Ribbon Mono FullBlack solar module
Product description

HYUNDAI Shingled 400Wp Black-Ribbon Mono FullBlack
Tier 1 Module Manufacturer
Advantages of the Shingled method :
- The cells are shingled. In this way, the surface is used more efficiently.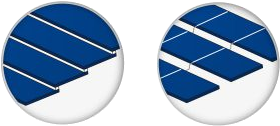 - A second advantage is that the cells are connected in parallel. So if there is a part of the solar panel in the shade, it is only these shaded cells that bring the power down. You don't immediately lose 1/3 or 2/3 of the power!
- Black-Ribbon: 100% Refined, Aesthetic Appearance
HYUNDAI ENERGY SOLUTIONS
✔

PERC Shingled Technology
PERC Shingled Technology provides ultra-high efficiency with better performance in low irradiation. Maximizes installation capacity in limited space.
✔

25 Jaar Productgarantie
Global brand with powerful financial strength provide reliable 25-year product warranty.
✔

UL / VDE Test Labs
Hyundai's R&D center is an accredited test laboratory of both UL and VDE.
✔

Corrosion Resistant
✔

Anti-LID / PID
HYUNDAI Shingled 400Wp Black-Ribbon Mono FullBlack solar module
Product specifications
Number of pieces in 1 package
Tempered glass with anti-reflective coating
HYUNDAI Shingled 400Wp Black-Ribbon Mono FullBlack solar module
Product documents
Notify