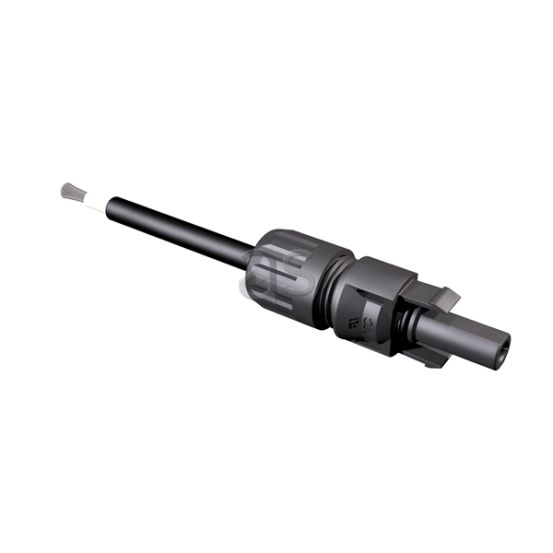 Multi-Contact MC4 connector PV-KBT4/6II-UR for section 4-6mm²& dia 5.5-9
Product code : 82000
293
Multi-Contact MC4-bus, section 4mm² to 6mm². Multi-Contact reference: 32.0016P0100-UR
You can contact us for more information via the button "add to Wishlist'
Multi-Contact MC4 connector PV-KBT4/6II-UR for section 4-6mm²& dia 5.5-9
Product description
Multi-Contact MC4 connector PV-KBT4/6II-UR for section 4-6mm² & dia 5.5-9
Outer diameter to 9mm
Price per piece. To be ordered in multiples of 5 pieces
Multi-Contact referentie: 32.0016P0100-UR
Multi-Contact
A pionier in advanced contact technology
Multi-Contact has been a leading international manufacturer of electrical contacts and connection systems for 55 years.
Since January 2017, Multi-Contact continues its business as Stäubli Electrical Connectors.
Being part of the Stäubli Group for 15 years, we now adopt the name and brand appearance of Stäubli. Providing latest technology and highest quality in products and customized solutions, this step will allow us to even better meet the demands of the global market.
Stäubli
Stäubli provides innovative mechatronics solutions in four dedicated divisions: Electrical Connectors, Fluid Connectors,Robotics and Textile. With a global workforce of 5.500 employees, the Group has a presence spanning 29 countries, and a network of agents in over 50 countries.
Multi-Contact MC4 connector PV-KBT4/6II-UR for section 4-6mm²& dia 5.5-9
Product specifications
Sold per packing quantity of (pieces)
Number of pieces in 1 package
Multi-Contact MC4 connector PV-KBT4/6II-UR for section 4-6mm²& dia 5.5-9
Product documents
Notify