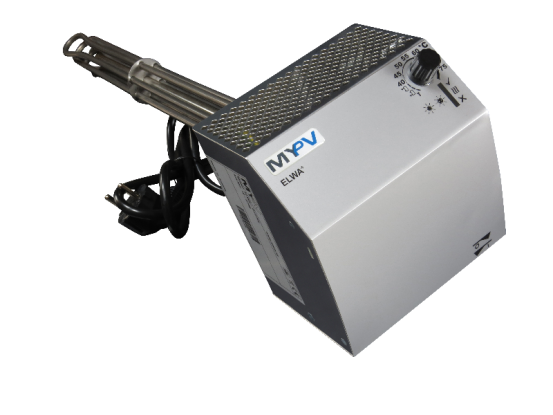 my-PV ELWA
Product code : 59020-SN
10160
ELWA is a 2 kW photovoltaic water heating device.Direct current from photovoltaic modules is transferred directly to the built-in heating elementand immediately converted into heat without loss.
You can contact us for more information via the button "add to Wishlist'
my-PV ELWA
Product description
my-PV ELWA
my-PV ELWA: a 2kW photovoltaic water heating device
Use solar power directly for domestic water heating
ELWA uses DC power from PV panels directly for water heating. No grid connection, no inverter, and no need
for grid connection permits. Very easy to install. The patented ELWA system provides up to 50% of the annual
hot water demand of a four persons household.
With a DC power of 2,5 kWp ELWA replaces a four to ten square meter solar thermal system. Automatic
AC backup heating ensures hot water supply during rainy days.
✔ 100 % PV self-consumption
✔ Easy installation
✔ AC backup heating included
✔ No need for grid connection permits
✔ Lower cost compared to conventional hot water systems
✔ 2 ELWAs allow stratification-heating
✔ Low maintenance costs
Have a look at our webinar:
my-PV ELWA
Product specifications
Notify